BME France Is Digitising the B2B Building Materials Distribution Business With OroCommerce
As a leading distributor of building materials, BME France set some ambitious targets for its digital transformation. They began by creating one unique platform for both its entities, Busca and Raboni, which were traditional offline building materials distribution businesses.
+ 9 500
Employees (BME Group)
3.B Euro
Annual Revenue 2020 (BME Group)
The Challenge
BME France aimed to better serve its own teams and customers by leveraging a unique digital platform.
For its internal sales teams, the objective was to facilitate and optimise the access to enriched data to help support their sales speech and push relevant information such as cross-sell products and technical information.
BME's objective was to firmly position both entities into their competitive landscape while providing reliable, useful information and services such as product availability, prices, and requests for quotes for their customers and prospects.
BME France turned to Synolia to execute its digital and eCommerce strategy.
"I already knew Oro. It was a solution that I had spotted and wanted to recommend in the event of a project in the Group. In addition, the proximity of Oro and Synolia was a heavy argument in choosing the solution. It offered an absolute guarantee of success for our project!"
The Solution
BME France selected OroCommerce as their B2B eCommerce platform for its native B2B features, performance, and customisation potential. Moreover, Oro's flexibility and support during implementation enabled Busca and Raboni to position themselves as top competitors in their respective markets.
Smooth integration with Akeneo PIM made it possible for Raboni to offer customers complete, reliable product information on each site. Furthermore, each product's inventory status and personalised prices appear in real-time for each customer, who can then create several personalised product lists according to their individual needs. For example, customers with numerous construction sites can separately manage shopping lists for each. 
Thanks to OroCommerce, BME France was also able to implement the following features: 
Store Locator:

Customers can see product inventory and availability at Raboni's locations without needing to log in or set their location.

Requests for Quote:

A new quoting function streamlines the quotation process, saving time when requesting prices on special products or bulk purchases. 

Price Provider:

Complex price structures remain preserved and integrated between the ERP and OroCommerce. The result is faster price management across sites and personalised prices for each customer.
With OroCommerce, BME France unified different workflows and business logics under one roof, starting from product information via PIM, prices via the ERP, and eCommerce functions via OroCommerce. The result: Busca and Raboni now operate from a unified back-end while maintaining two distinct, uniquely branded sites, while a single admin dashboard provides a bird's eye view of KPIs and operational data.
Looking ahead, BME France is only accelerating its digital transformation. The company continues to invest in Busca and Raboni with additional customer services, click-and-collect, product enrichment, improved search results, and further digital merchandising enhancements.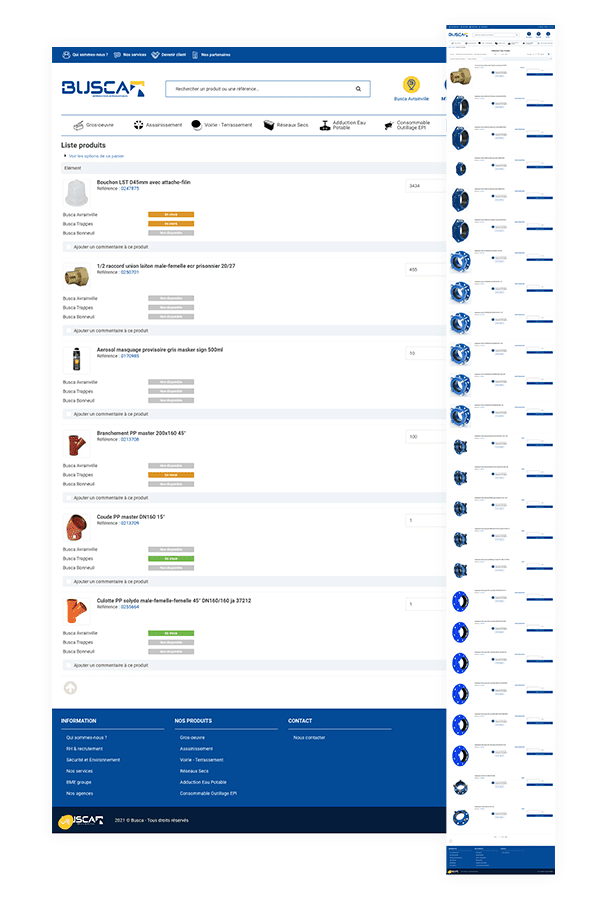 Contact us to learn more about
OroCommerce's capabilities
Contact Us