France Air Boosts Business with a B2B eCommerce Strategy
France Air is a major distributor in air treatment, ventilation, heating, and domestic hot water treatment systems and solutions. With over 60 years in business, France Air built a future-proof strategy with a digital overhaul of their eCommerce systems
Live Website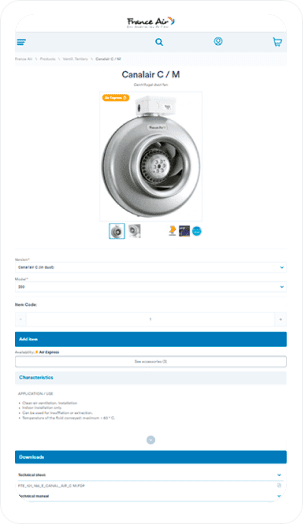 The Challenge
Previously on Magento 1, France Air felt that their platform was becoming outdated in both looks and functionality. They had reached a technological impasse – their platform was outdated and was full of bugs, which made a huge impact on performance.
It was time for France Air to upgrade from their Magento platform and build a mobile-friendly website that would support their future growth. France Air chose OroCommerce as their modern B2B eCommerce solution for peace of mind for future scalability and market growth.
With the help of their solution integrator, Synolia, France Air outlined their clear expectations for their platform:
Multi-cart options
Quick order forms
Custom B2B delivery options
Personalized pricing per customer account
Overall, their main focus was to improve their website while providing an effortless digital shopping experience for their customers.
It was essential to include the teams in this project and to support them in getting to grips with the platform so that they understood all the opportunities. We will also continue to call on them to develop it according to their needs and their feedback.
Loic Dolbeau
Digital Marketing Manager, France Air
The Solution
After implementing OroCommerce, France Air was finally able to provide a shopping experience that met their customer expectations. OroCommerce was able to simplify and speed interactions with their customers.
The sales team is immediately notified once a customer places an order, which allows for better customer service and faster assistance in the buying journey. Customers now have access to PDF of product specs and installation guides directly on the product pages for the ultimate self-serve shopping experience.
OroCommerce delivered:
a responsive website that is easily customizable
a 24-hour personalized delivery option with multiple delivery options
unique customized registration tunnels, personalized content blocks, and catalog personalization features for the ultimate customer experience
With OroCommerce, France Air is now a forerunner in their industry for digitalization. Now France Air has a fully functional website for their current business goals that is robust enough to grow and update as their goals change and mature.