2020 saw the biggest test ever faced to the B2B industry. They had to make quick moves to digital, deal with supply chain disruptions, shortages, or sudden spikes in demand. It's also clear that top performers didn't waste time implementing and scaling their digitisation initiatives during the crisis. A survey by McKinsey demonstrates that over 96% of companies that scaled digital technologies such as B2B eCommerce in 2020 believed it allowed them to adequately respond to the crisis. Out of those that avoided implementing digital technologies, only 19% believe they responded well.
Global vaccination efforts have been a hot topic as of late, and the numbers coming from the US and the UK are a cause for optimism. Meanwhile, many European Union countries remain on some form of lockdown – whether on a national curfew or a localised restriction. Some stores are even taking appointments before accommodating shoppers at physical locations.
Many are still wondering if this year will give us some semblance of normalcy. One thing for sure: as the global pandemic continues, many companies are continuing the year with just as much uncertainty as they saw in 2020, with continued swings in sales and demand.
Our Q1 2021 B2B eCommerce news roundup sums up for you what's new in the world of B2B eCommerce, as well as an update on manufacturing, distribution, and supply chains. Keep reading for this month's statistics on marketing, customer experience, B2B marketplace news, and success stories.
B2B eCommerce growth, Economic Growth, and Optimism
While the COVID-19 pandemic has continued to increase the demand for eCommerce, the UK economy is predicted to grow at a higher rate since WWII. The EY Item Club states the majority of UK businesses (including eCommerce) adapted quickly to restrictions, as consumer spending had increased online. Now lockdown is easing, this has resulted in the expectation that GDP will grow by 5% in 2021 and an increase of 6.5% in 2021. 
B2B e-commerce to continue it's lockdown-driven boom
According to the Institute of Export & International Trade, the worldwide market for B2B eCommerce will grow by more than 70% by 2027. This reminds us just how 2020 has changed eCommerce and how we can prepare for the future. As eCommerce takes over former physical selling channels, these changes are not going away. 
Oro's analysis of 2021 B2B eCommerce trends 
What should we expect in 2021? We updated our comprehensive B2B eCommerce market analysis with lessons learned from 2020, various statistics, trends, and growth areas to watch in the years ahead.
6 B2B eCommerce websites to help you sell in more 2021
Research by Net Solutions indicates that over 80% of B2B brands plan to invest in an eCommerce platform this year. Merchant Machine shares 21 unique B2B eCommerce websites that help manufacturers, distributors, and suppliers maintain excellent partner and customer relationships.
The value of a minimum viable product in B2B eCommerce
Is the idea of moving your B2B online enough to give you cold feet? Yoav Kutner, the Founder of and CEO of Oro, Inc., shares the benefits of the minimum viable product (MVP) approach and how it saves time, money and ensures your B2B eCommerce project is a success.
Strategies for a post-pandemic workforce
Even as the world gets the pandemic under control, there's no going back to the pre-pandemic work environment. Many B2B brands are realizing that the only way forward is a hybrid – that is – a mix of both remote and co-located work.
Manufacturing News in B2B eCommerce Keeping workers safe from COVID-19 is still a priority
Worker safety in UK manufacturing continues to be a hot-button issue. Thankfully, brands are using innovative technology to adapt to a new way of working. They're finding it easier to comply with government regulations and guidelines for social distancing through the use of wearables, digitized processes, and predictive analytics.
Supply Chain News in B2B eCommerce Overcome supply chain agility barriers with digital technology
Agility is central to responding to supply & demand shocks, acting on emerging opportunities, and restoring operations after a crisis. Digital platform enabled systems must be inseparable from your digital supply chain strategy.
Manufacturing and Distribution in B2B 
eCommerce COVID Hurts apparel, luxury; helps alcohol, food, bev
How did COVID impact the UK packaging industries? Last month's report from the ONS reveals how the pandemic impacted various markets in different ways.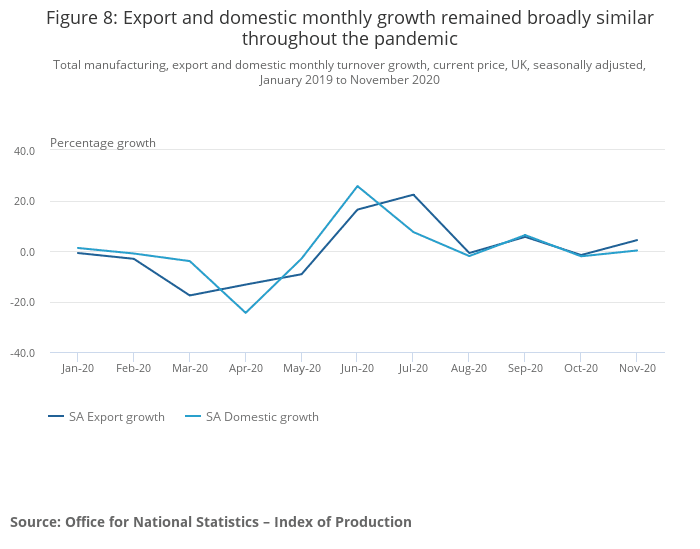 Marketing and Customer Experience in B2B 
eCommerce The ongoing B2B marketing trends roundup
The B2B marketing landscape is changing, and eCommerce giants like Alibaba and Amazon Business are setting the bar higher than ever. Brafton, a marketing agency updated a list of 12 marketing trends in the B2B space you need to know.
SEO tips for distributors engaging in B2B eCommerce
Great website experiences aren't just for B2C customers. B2B users also need to find answers to their questions and easily identify and purchase needed products. That's why it's important for industrial distributors to keep up with various SEO strategies to better meet the needs of their buyers.
By 2022, B2B marketing spending is expected to increase
In their B2B marketing survey, Appetite Creative Solutions asked participants to share their B2B marketing priorities. Despite the uncertainty caused by COVID-19, nearly all respondents (82%) view B2B marketing as an important driving force for new business. In addition, B2Bs also see eCommerce as a key focus this year.
Thanks for Reading Our Q1 Roundup!
That's all for this quarter. As always, we hope you found our B2B eCommerce roundup informative. Looking to contribute an article or a news piece? Let us know by leaving your comments below or getting in touch with us through our social media channels or drop us an email. In the meantime, don't forget to bookmark the OroCommerce blog to stay on top of all the updates.