The COVID-19 pandemic demonstrated a sharp divide between businesses with a digital presence and those that are not. If restrictions and uncertainty continue, businesses that anticipate and adjust to new trends will survive in the new environment.
Many B2B eCommerce brands have undertaken some form of automation reactively due to switching to remote work environments or to streamline their own customer service, supply chains, or fulfilment, which can, in turn, make business processes more efficient and quick.
However, that is not enough. Forward-thinking B2B companies think ahead and look for flexibility within their workflows. Flexible workflows unlock new ways for a business to gain long-term stability and can give them peace of mind to become more proactive with weathering unknown risks better and act on opportunities faster.
Unlike B2C customers, B2B buyers are more likely to expect personalisation features as part of a self-service experience. As an example, this might include an instant messaging feature or a personalised self-service portal.
Our own studies reveal that B2B sellers seek to improve productivity and get their employees to build relationships rather than manage orders. This equates to over 69% of B2B companies looking to take their catalogues online and manage orders digitally within five years, rather than printing physical catalogues, with manual processing costing up to 70 times more than digital order processing.
Flexible workflows benefit both B2B sellers and buyers. Users can access personalized pricing, track the status of their orders without employee involvement, and brands can essentially run their stores on autopilot 24/7.
In this article, we'll explain everything you need to know about workflow automation and its coordination in eCommerce, the benefits of workflow management for your eCommerce business, and some ideas for workflow automation that you can implement in your eCommerce business.
What Is an Automated Workflow in eCommerce?
In eCommerce, an automated workflow is a step-by-step process of how processes can be automated to increase efficiency, speed and accuracy, while errors are eliminated or significantly reduced. An automated workflow can be created by reducing costs, reducing manual effort or optimising resources already used by a business.
Automating workflows generally means replacing human activity with digital activity, but this isn't always the case.
One example of a simple workflow automation is automatic customer data synchronisation between the CRM and the B2B eCommerce platform. With proper setup, it eliminates manual order entry and coordination tasks by sales representatives. Flexible workflow automation engine allows businesses to tweak and optimise their workflows for more efficiency as time goes on.
4 Benefits of Workflow Automation in B2B eCommerce
There are many reasons why you might want to automate your eCommerce processes. Below we have listed just four of the core benefits of workflow automation in eCommerce:
Enable data accuracy
When maintained without automation, any data relating to customers, inventories or transactions can become lost or may not be relayed properly. As time goes on and more data is accumulated, it can lead to further strain on operations, with a higher risk of mistakes and a wider opportunity for human errors.
Workflow automation can minimise these risks, and in some cases, eliminate them completely for data accuracy. 
Cut down on costs
Businesses that automate manual tasks can perform them faster and with more precision. This means that unnecessary tasks that are both time-consuming and require a lot of effort can be automated, preventing the need for workers to spend hours each day carrying out these tasks.
Of course, this means that time, money and effort can be saved, having a positive knock-on effect to other areas of the business.
The time, money, and effort saved can have a knock-on effect on other areas of business, and can result in time being spent elsewhere. For example, on customer service, perform market research, competitor analysis, A/B testing, experimentation, and explore other creative business growth tactics.
Scale your business
A typical eCommerce business depends on many important tasks, many of which tend to be repetitive. Employees are physically limited by how much work they can perform each day. 
Manual data entry leads to typos and omissions, while locating this data can take up too much time. As employee attention is diverted from time-sensitive to unproductive activities, there's reduced time to focus on invaluable business growth initiatives.
Tying employees up in unproductive activities that can be performed by software hampers your ability to increase revenues and act on growth opportunities, whereas workflow automation can make it easier to scale your business.
Improve the customer experience
Customers want an experience that is quick, easy and simple, however, if sales reps are required to intervene and take part in the process in order for an order to be completed, it can hamper the chances of customers getting to the final page.
Workflow automation helps eCommerce businesses introduce elements of self-service, meaning that customers can freely purchase at any time, manage their orders and make a return, without employees needing to get involved.
When the products, order data, and shipping information is tailored to their needs, customers feel like their time and effort is saved.
What Workflows Should You automate in eCommerce?
Out of all business processes, it may be challenging to decide on what to automate. Here are some starting points for proper workflow coordination in eCommerce:
Focus on repetitive tasks
Create a list of tasks that would be excellent candidates for automation. The most unproductive, resource-draining tasks tend to be repetitive and involve handling data. Activities like reporting, emailing, coordinating, confirming, reminding, and miscellaneous data entry all fall into this category.
Examine and perfect your processes
Once you've identified the tasks to automate, analyze your processes. While many will be obvious (like emailing or reporting on data), some further investigation may be necessary. Talk to your employees and use activity tracking tools to help you pinpoint the bottlenecks that you could eliminate.
Start small and grow in complexity
Begin with workflows that will have the smallest impact on operations. By starting with a simpler process, you'll gain the knowledge and experience needed for more complex ones. Look for an eCommerce solution with the right automation features, with the required integration connectors between systems, and monitor data for accuracy during the evaluation period.
9 Workflow Automation Ideas for B2B eCommerce
B2B eCommerce is very different to B2C operations. B2B eCommerce transactions are of higher value, take more time and generally involve many decision-makers. 
This leads to greater opportunities for workflow automation which business processes can then benefit from, which we have listed below.
Data entry is a time consuming process that can inevitably lead to human error from time to time. 
When product catalogues and product options grow, managing your product configurations, descriptions and specifications become more difficult. Having a singular, cloud-based, source of truth that is able to manage product information across systems can keep your product data organised.
When a B2B customer places an order, there are several processes that occur behind the scenes, that are complex if not automated.
Some of these processes include sending data to the ERP, updating the inventory, sending order confirmation emails, to name just a few. With so many processes involved, your workflows must make use of robust connections between your CRM, ERP, accounting, payment, and shipping providers.
Inventory synchronisation
Product stock must closely align with the demand from B2B's, otherwise, you may be left with too little or too much stock, resulting in low profits or businesses unable to make a purchase when they need to most.
Inventory tracking must use reliable data and analytics with accurate, real-time ERP synchronisation. Inventory automation can improve warehousing, fulfillment, tracking, and customer experience.
As a B2B business, you'll be selling to a wide variety of businesses. Vendor and supplier onboarding processes vary and involve input from decision-makers which must be coordinated. Without automation, crucial elements like paperwork, training procedures, regulations, and email sequences can get lost in the mix. By automating these steps, employees can focus on more time-sensitive tasks like resolving customer complaints.
Automation allows for B2B purchases to be made at scale, otherwise businesses are left waiting around and spending too much time making a simple purchase.
Integration between the CRM and eCommerce platforms helps you accurately and reliably perform targeted marketing initiatives. 
Automated pricing workflows reduces friction during the purchasing process, allows B2Bs to deal with large product catalogues, and complex product configurations.
It can also make it simple to tailor to a varied customer base by dynamically calculating pricing and applying customer-specific discounts, promotions and delivery options.
B2B eCommerce orders rely on quotes and invoices. Automating these processes allows buyers to save time when requesting quotations and managing invoices through a self-service portal.
Business buyers purchase on behalf of companies, meaning that there are several decision-makers involved in the process of buying. Automation allows a decision-maker to be notified if an order exceeds a set amount. After the decision-maker has approved, the order can then be fulfilled.
Businesses selling to other businesses often maintain unique return, refund, and exchange criteria according to each customer. Automating these processes reduces errors, speeds up the return process, and enhances the customer experience. You'll be able to maintain customer activity and inventory visibility by having data move freely between the CRM, ERP, and eCommerce systems.
Examples of B2B eCommerce Workflow Automation 
Order approval
Your checkout typically starts with a quick order form or a checkout page. As the customer navigates to the end, their order is then submitted. With that being said, business customers may need to gain approval from decision makers within their business before making a payment.
When the customer clicks "request approval", the approving authority (the decision maker) is notified, either accepting or rejecting the order. Once approved, the requester is automatically notified and the order is processed as usual. Here is how an automated workflow can look behind the scenes: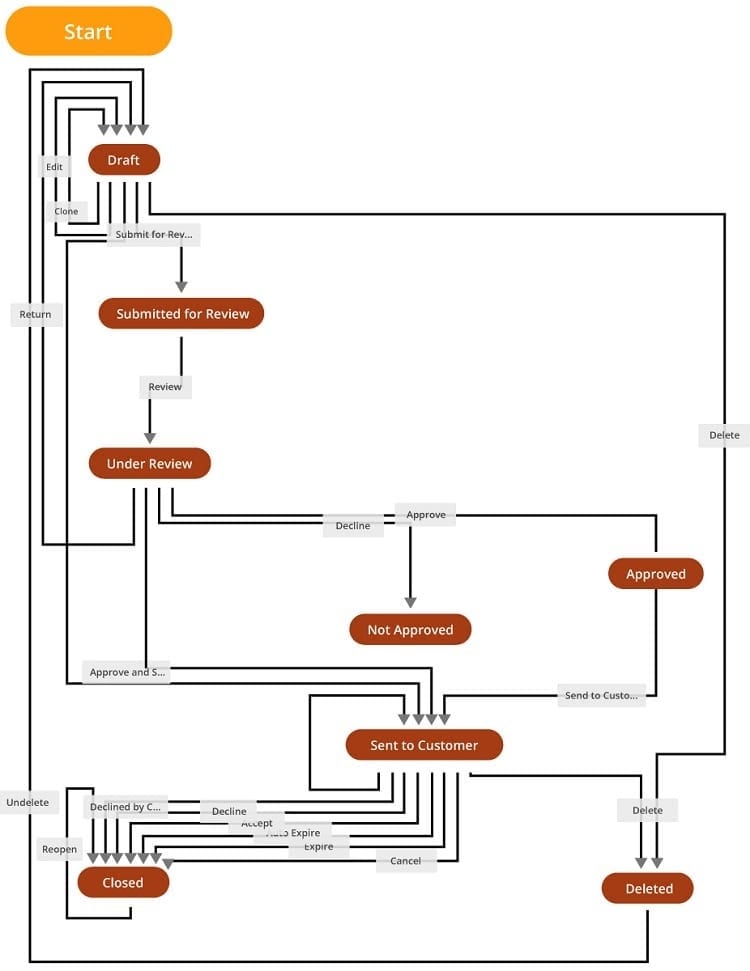 Requesting a quote
If some products on your eCommerce site have a negotiable price or are based on a quote system, giving your buyers the option to request a quote allows them to cut out the hassle of contacting you directly, and therefore preventing the need for you to step in and request the information from the buyer.
When the customer requests a quote, automated workflows turn on behind the scenes. They can either request more information from the customer, or you can supply them with a quote based on the information they've provided.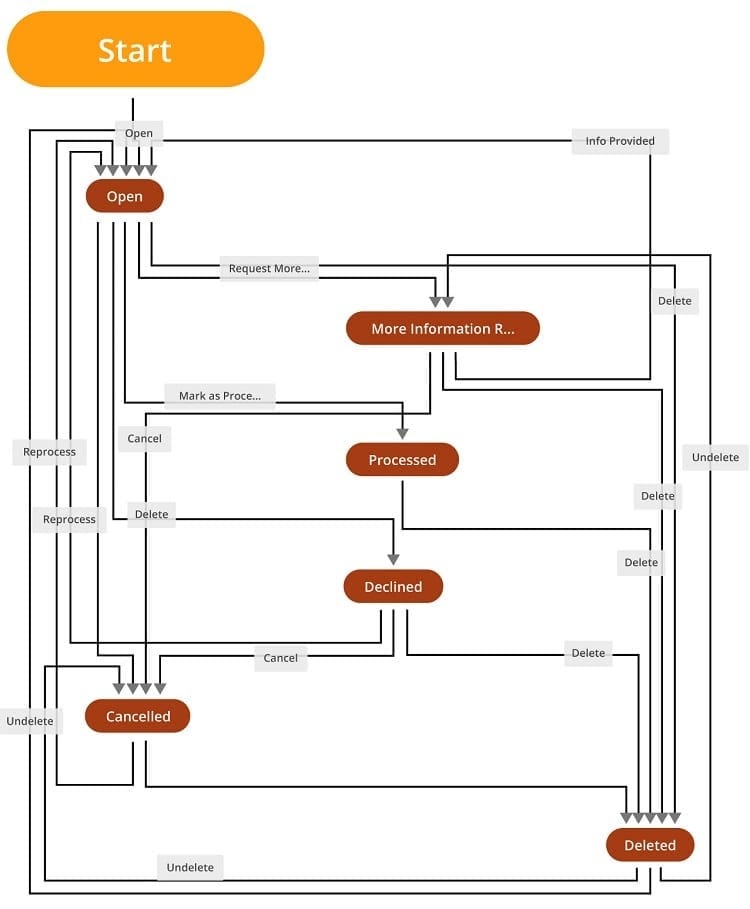 Look for Built-in Workflow Automation in eCommerce Vendors
Without a strong workflow automation engine to start with, you risk investing in workarounds and coded modifications that only increase in complexity and hamper your ability to grow over time.
Many B2B-specific solutions, such as OroCommerce, offer the robustness, flexibility, and security that help businesses better position themselves for the future. More often than not, the only thing stopping B2Bs from embracing the benefits of eCommerce workflow automation is taking the first step.