Although most B2B business owners are well aware of the necessity of digital transformation, the amount of merchants reaping the opportunities in B2B online commerce space is limited. That's why today we're taking a data-driven, detailed look into the many advantages of B2B eCommerce.
Whether you're just getting started, or haven't even considered B2B eCommerce as a major wholesale channel yet, the infographic below will help you get a better understanding of its importance.
FYI. If you would like to skip all of the reading and get to the full infographic itself, click this link.
The Most Reassuring B2B eCommerce Stats and Facts
It is not the strongest of the species that survives, nor the most intelligent that survives.
It is the one that is the most adaptable to change.
– Charles Darwin
85% of B2B companies recognize that digital commerce is an important revenue opportunity that they are not yet fully utilizing.

Your Customers are Looking for You Online Already
"Every B2B buyer is also a consumer in their personal life.
They expect the ease of use for B2B and personal shopping to be similar,"
– Cindy Zhou, a principal analyst at Constellation Research.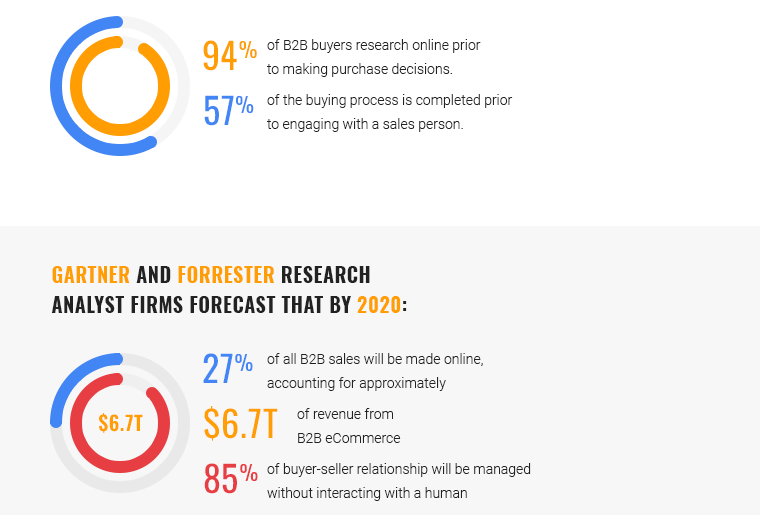 7 Major Benefits of B2B Ecommerce
1. Scalability and Growth Potential – you don't have to bother opening offices and hiring more people to scale and grow. Powerful B2B eCommerce platforms empower you to add thousands of new SKUs in minutes and easily create and manage multiple sites and even organizations from one admin panel.



2. Reach More Customers – having your web catalogs online gives you an opportunity to reach more customers. Go where your buyers are researching purchases and leverage the power of search engines with SEO.


3. Higher Operational Efficiency – digitization and automation of your business takes care of the routine tasks that previously were handled manually by your employees. This reduces errors while enabling your staff to address things a machine cannot do – advising, consulting and supporting leads & clients.




4. Improved Analytics – integration into other business software (ERP, PIM, Procurement, CRM, etc.) provides you with a holistic view of all business processes. Getting instant insight into all the bottlenecks and make important business decisions to optimize your operations quickly.

Adopters of digital transformation are achieving 9% higher revenue creation, 26% greater impact on profitability, and 12% more market valuation.

5. Increased and Improved Sales – your B2B eCommerce website will quickly become your best salesperson because it can take orders 24/7 and provide answers to frequently asked questions via self-service support sections. Besides, a B2B eCommerce site bundled with CRM and ERP provides your sales reps' full visibility into customer info, their order history, and personalized pricing, as well as instant insight into stock availability, while on the road or working remotely.



6. Customer-centric experience – It is clear that users now prefer do-it-yourself options for researching products prior to purchase. E-commerce sites can provide them with access to self-service portals with product descriptions, reviews, shipping and handling information, as well as their account, order history and delivery tracking information. By leveraging personalization capabilities of B2B eCommerce platforms, you can even customize the way your storefront looks or which products it displays first based on buyer preferences. Besides, your customer-facing teams get the access to a wealth of data on each customer & their transactions which provides personalized, customer-centric support.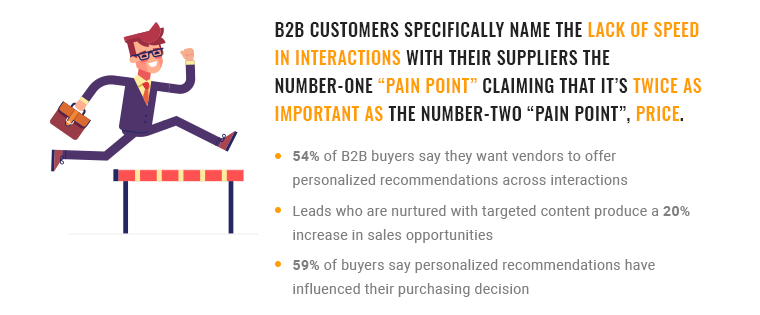 7. Stronger Brand – Stop relying on marketplaces that might provide you an easy way to start selling online, but strip you of your brand identity. You're limited in developing and promoting your own brand, as marketplaces make it difficult for buyers to notice that they can buy online from you. Even worse, you reduce your margins and lose data about YOUR customers! Be strategic and leverage B2B marketplaces as an additional sales channel, not a substitute for your own branded eCommerce site.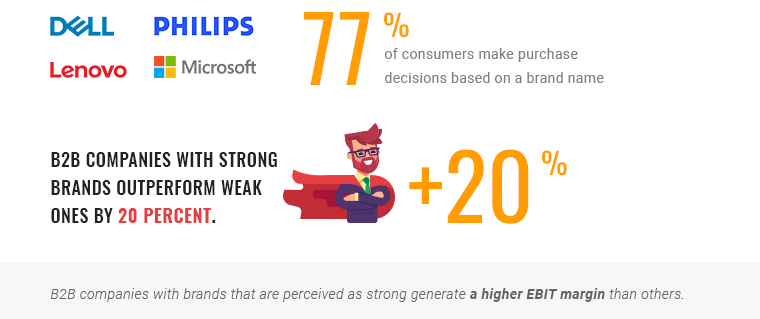 There are many reasons why we decided to create this infographic: it's a great resource, easy to read and share, but most importantly: it communicates complex information easily. That's why in this day and age, Venngage's post on how to make an infographic is particularly useful and can help you make the most effective ones around. Besides, it's something that will always bring you more traffic, brand awareness, and help you stand apart.
To view the full infographic click this link. If you enjoyed this infographic, please support it by sharing this blog post on social.