Business Unit Records Management¶
Create a Business Unit Record¶
In order to create a Business Unit record, complete as follows:
In the main menu, navigate System>User Management>Business Units.
Click the

Create Business Unit

button.
Define the details of the business unit. See the fields descriptions in the sections below.
General¶
Name
Description
Name
The name used to refer to the business unit on the interface. This is the only mandatory field.
Parent Business Unit
Define the business unit to which this business unit belongs (a level higher in the administrative hierarchy).

Phone

Website

Email

Fax

You can define these contact details of the business unit, if applicable.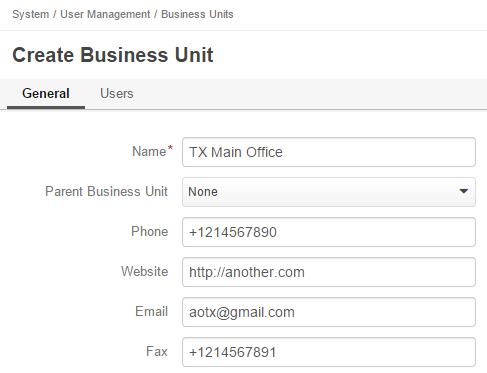 Users¶
Select / clear the HAS BUSINESS UNIT check box to assign/unassign a user to the business unit:
Note
Please note that the "HAS BUSINESS UNIT" check box defines if the user is assigned the specific business unit that you are creating/editing
View and Manage a Business Unit Record¶
All the business units available are displayed in the Business Units grid (System>User Management>Business Units).
From the grid you can: